GEN III LEVEL 7 PARKA, EXTREME COLD WEATHER (ECWCS) URBAN GRAY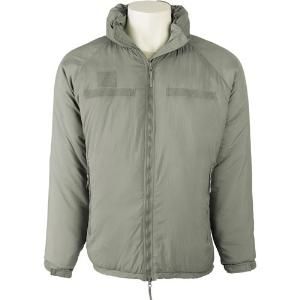 GEN III LEVEL 7 PARKA, EXTREME COLD WEATHER (ECWCS) URBAN GRAY
OUTERSHELL

:  WINDPROOF, WATER RESISTANT, BREATHABLE EPIC FABRIC. 

COLOR:  URBAN GRAY. 

INSULATION: PRIMALOFT SPORT THERMAL BONDED HIGH-LOFT INSULATION. 

JACKET MAINTAINS BODY WARMTH EVEN WHEN THE JACKET IS WET. 

IT ALSO PROVIDES A HIGH LEVEL OF PROTECTION IN EXTREME COLD WEATHER OPERATIONS WHEN MOVING OR STATIC. 

FEATURES:  2 WAY FRONT ZIPPER WITH FABRIC THONG FOR USE WITH GLOVES.  CORDURA NYLON REINFORCED ELBOW PATCHES. 

LINING:  1.7oz RIPSTOP NYLON ALSO URBAN GRAY. 

THE HOOD STORES UNDER COLLAR FLAP WHEN NOT IN USE. 

IT HAS 2 SIDE SLASH POCKETS W/ZIPPER CLOSURES. 

ELASTIC DRAW CORD ADJUSTABLE WAIST ACCESSED THROUGH THE SIDE POCKETS. 

2 LARGE ELASTIC AND MESH INSIDE POCKETS. 

LOOP FASTENERS FOR: RANK, BRANCH OF SERVICE AND NAME TAPES. 

THE PARKA IS BERRY AMENDMENT COMPLIANT.