GEN III LEVEL II 499 TAN THERMAL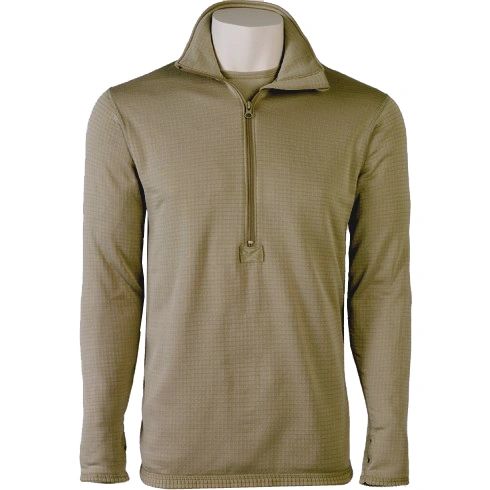 GEN III LEVEL II 499 TAN THERMAL
THE NEW 499 GEN III HEAVY-WEIGHT SHIRT AND DRAWERS PROVIDE LIGHT INSULATION IN MILD CLIMATES AND SERVE AS A BASE LAYER IN COLD CLIMATES.
CONSTRUCTED WITH GRID MATERIAL, THIS LAYER PROVIDES EXTRA WARMTH IN COOLER CONDITIONS BUT STILL WICKS MOISTURE AWAY AND DRIES FAST. 97% POLYESTER AND 7% SPANDEX.
THE MATERIAL OFFERS STRETCH FOR INCREASED COMFORT AND IS LIGHTER WEIGHT WITH LESS BULK THAN PREVIOUS SYSTEMS.
GEN III COLD WEATHER HEAVY-WEIGHT SHIRT FEATURES:
HIGHLY BREATHABLE, FAST DRYING NEXT-TO-SKIN LEVEL
PROVIDES EXTRA WARMTH AND STAYS DRY IN COOL WEATHER
MOISTURE WICKING FOR EVAPORATIVE COOLING IN MILD CLIMATES
THUMB HOLES AID IN DONNING MULTIPLE LEVELS
REDUCED CHAFFING AND INCREASED COMFORT DURING MOVEMENT
CONTOURED LONG TAIL FOR ADDITIONAL PROTECTION FROM THE ELEMENTS
MID-CHEST ZIPPER CONVERTS TO A MOCK TURTLENECK WITH THROAT PROTECTION
LEVEL 2 ECWCS-EXTENDED/EXTREME COLD WEATHER CLOTHING SYSTEM
SIGNIFICANTLY LIGHTER WITH LESS BULK THAN PREVIOUS GENERATION ECWCS